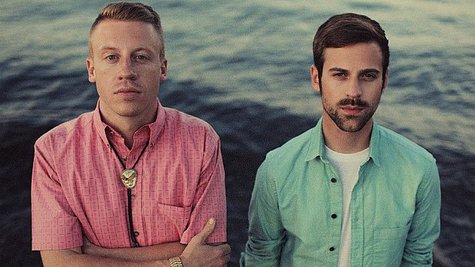 Macklemore & Ryan Lewis are known for being pro-gay rights, and now they've lent their support to the "You Can Play Project," which aims to stop homophobia in the world of sports, as well as in music and entertainment.
In a new YouTube video, Seattle-based Macklemore is seen performing onstage while wearing a Seattle Supersonics jersey. "You know someone who's gay...athletes, musicians, people in your life. They just haven't told you yet," says the rapper.
He adds, "You know what? It doesn't matter...if you have the skills, talent and heart, you can play. Don't let being gay hold you back, and if you're straight, do not hold others back. Anti-gay language has no place in sports, or music. If you can play, you can play."
Macklemore & Lewis's song "Same Love" is pro-gay marriage and condemns homophobia. Last year, Ellen DeGeneres gave the duo some major exposure by inviting them on her show to perform the song. Macklemore told People magazine not long ago, "It's a personal issue for me. I grew up with gay uncles and a [gay] godfather in a very gay neighborhood of Seattle."
Copyright 2013 ABC News Radio