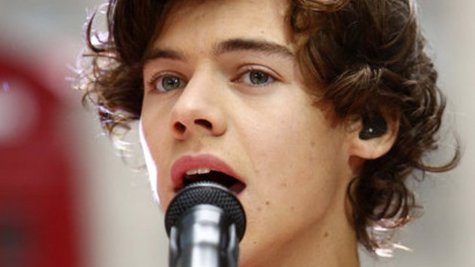 It seems as though the only thing Harry Styles is guilty of is singing pop songs, having floppy hair and causing millions of girls to fall in love with him, but that was enough to win him the "Villain of the Year" prize at the annual awards ceremony sponsored by the British music publication NME. Thankfully, the singer can take a joke.
Taking to Twitter Wednesday night to thank the fans in Glasgow, Scotland for a great show, Harry added , "And thank you to @NME for my award tonight. Gotta take the rough with the smooth eh?"
Among the people Harry beat out for the award were Skrillex , PSY and British prime minister David Cameron , who makes an appearance in One Direction's new video for "One Way or Another (Teenage Kicks)."
In addition to Harry's individual award, One Direction was named Worst Band at the NME Awards, beating out their friend Ed Sheeran, as well as Justin Bieber, Mumford & Sons and Muse .
These "awards" have, of course, gotten Directioners pretty riled up, and they're now bombarding NME with angry letters and tweets denouncing the publication for dissing their boys, especially Harry, who one fan described him as "THE MOST SELFLESS NINETEEN YEAR OLD BOY IN THE...WORLD OF CELEBRITIES."

One fan in particular felt that they had a very convincing argument, tweeting, "HARRY SHOULDN'T HAVE WON VILLAIN OF THE HEAR HE SHOULD BE THE HERO OF THE YEAR CUZ HE DATED TAYLOR AND DUMPED HER A**."
NME has gleefully reprinted numerous letters and tweets, under the headline, " These One Direction Fans Are Really Angry ."
Copyright 2013 ABC News Radio