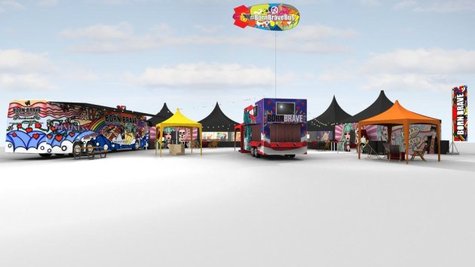 Lady Gaga had already announced that one component of her upcoming Born This Way Ball tour in North America will be the "BornBraveBus," a space where kids can get counseling and "celebrate their individuality in a safe arena." Now, Gaga's shared with her fans exactly what the setup for the "BornBrave Bus" will be.
First, Gaga tweeted a picture of the actual bus , which is a brightly-colored tour bus with words like "Kindness," "Creativity," "Bravery" and "Respect" painted on the side. Then, she tweeted a picture of the bus as it will look when it's parked outside the venues where she'll be performing. "This is a computer rendering of the full setup for the BornBrave experience," she wrote. "The only thing it's missing is you!"
The setup shows the bus parked near four or five tents, with an additional vehicle that looks like it's set up to be some sort of mobile stage. Above it flies a multi-colored, blimp-shaped balloon that says "#BornBraveBus," along with a peace sign.
So, what exactly is going to happen inside all these tents and vehicles? As Gaga explained on Twitter , "It will be a fun tailgating experience for monsters to unite...you have access to professional private or group chats about mental health, depression, bullying, school & friends....there will also be food and games...to keep the experience fun."
She added, "BornBraveBus is a place where mental health + depression are taken seriously w/ no judgement, FREE real help available to all. I feel like most kids don't look for help because they feel embarrassed so mom + I wanted to break the stigmas around 'help' and make it fun."
The bus is an project of Gaga's Born This Way Foundation, which she founded with her mom, Cynthia Germanotta .
Copyright 2012 ABC News Radio