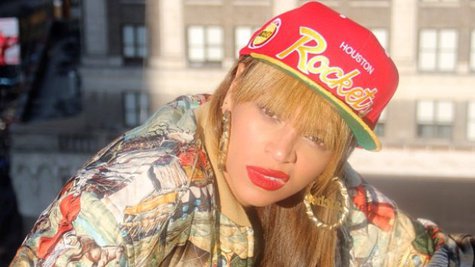 Instagram users raved about the "Ratchet" doorknocker earrings that Beyonce wore in a photo she recently shared on the site, and now they're speculating that the accessories were more than just a fashion statement.
If you take a quick scroll through the photo's comments, you'll see that a handful of fans are predicting that Beyonce's "Ratchet" reference hints at an upcoming collaboration with Lady Gaga , who back in September posted a photo of herself also rocking "Ratchet" earrings.
This might seem like mere coincidence, but Gaga has hinted that her new album ARTPO P would contain some sort of collaboration with Beyonce. In addition, much-hyped rapper Azealia Banks told the U.K.'s Capital FM a few months ago that Gaga has, indeed, been working on a song called "Ratchet."
If the collaboration rumors are true, it wouldn't be the first time that Beyonce and Gaga have joined forces. They also teamed up for the hit single and video "Telephone," as well as a remix of Beyonce's "Video Phone."
Copyright 2012 ABC News Radio