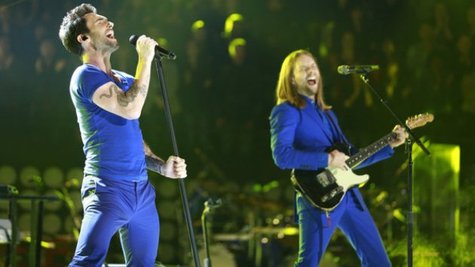 Maroon 5 had a great 2012 thanks to their album Overexposed, which produced two smash hit singles -- "Payphone" and "One More Night" -- and earned the band two Grammy nominations. But for Maroon 5 fans, 2013 will be even better, because the group is finally going to hit the road for a lengthy tour in support of the album.
The North American leg of the Overexposed tour, with opening acts Owl City and Neon Trees , gets underway February 13 in Columbus, Ohio, and wraps up April 6 in Illinois, with many dates already sold out. Guitarist James Valentine says fans are in for a treat, because the band is planning quite a spectacle when it comes to stage design.
"There's gonna be a lot of really cool production stuff that we've never tried," James tells ABC News Radio. "This is definitely the most visual show that we've ever put on."
James also says that looking back on 2012, there was one major highlight for him: the success of "One More Night," which topped the chart for nine weeks. "I just think watching the song "One More Night" sort of just explode and seeing how much that's resonated with people," he tells ABC News Radio.
Describing the moment when he realized "One More Night" song was huge, James says, "As soon as I got off of our southeast Asian tour, I got back home and every time I got in my car, I would hear the song on the radio, and that's an amazing thing. You know, just changing around to different stations and then hearing it on multiple stations at the same time. That's definitely a highlight for me."
If you can't get tickets to the Overexposed tour, you can always watch Maroon 5 singer Adam Levine on the fourth season of The Voice , which gets underway March 25.
Copyright 2013 ABC News Radio