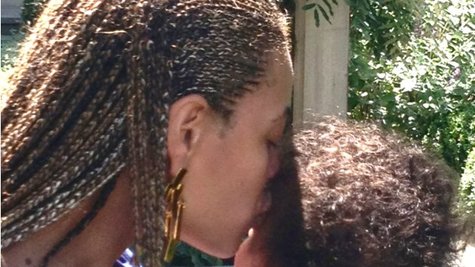 Happy Birthday, Blue Ivy ! Beyonce and Jay-Z 's baby girl marks her first birthday, Monday, January 7, and boy, what a year she's had.
Born in a swanky birthing suite at New York City's Lenox Hill Hospital, Blue's arrival in the world last January was met with a flood of celebratory tweets from fans and celebs, including Rihanna and Gwyneth Paltrow . Though pictures weren't immediately available, Jay-Z featured Blue on his song "Glory," less than two full days after her birth. The track, which credited Blue as B.I.C., made the days-old "performer" the youngest human to appear on a Billboard chart.
Everyone got a chance to finally see Blue's tiny face, when her parents shared family photos via their Tumblr website HelloBlueIvyCarter . Blue's aunt Solange couldn't stop gushing over her, and Kelly Rowland called her "absolutely beautiful." Oprah Winfrey reportedly sent baby Blue a trunk full of children's books, and family friend Gwyneth reportedly set her up with a stroller worth nearly $1,000.
When Beyonce ended her maternity leave and returned to the stage for a series of concerts in Atlantic City, six-month-old Blue reportedly had a chance to hang out with her babysitters Kelly and Michelle Williams .
Over the past twelve months, Blue's been on a handful of vacations with her mom and dad, including a trip to St. Barts, and a yacht trip on the Mediterranean Sea. The curly-haired cutie has also popped up on Beyonce's Tumblr page, and fans are hoping to see more of her when Bey's new HBO documentary premieres next month.
At one year old, Blue is a busy lady. She's been spotted at New York City restaurants and shops with her parents, and she apparently joins them at Nets games. Her dad, Jay-Z, who has stake in the NBA team, reportedly rents out space for her in Brooklyn's Barclays Center, where the Nets team plays. A source tells Us Weekly that he's paying $1 million a year for the "luxurious basement suite," located in the arena.
Blue has a ton of toys in the space, the source says, and when she's not around, her daddy's pals hang out in an area of the suite with a champagne bar and TV screen.
Copyright 2013 ABC News Radio