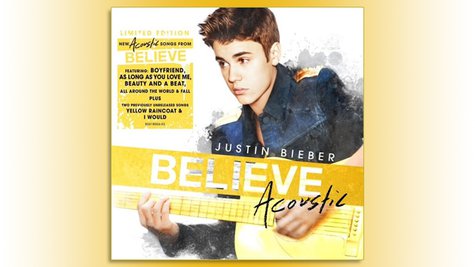 Justin Bieber has now revealed the titles of the two previously-unreleased songs on his upcoming disc Believe Acoustic, and he says they're going to reflect what's been on his mind.
You may recall that the album initially was only going to have eight tracks, but Justin said he just had to go back and write more material. He unveiled the songs by tweeting an album cover image that revealed the titles to be "Yellow Raincoat" and "I Would."
But wait -- there's more. Justin's manager, Scooter Braun , revealed on Twitter that the album will actually feature 11 tracks. He wrote, "up early working hard to get this last minute very heartfelt song the kid just wrote onto the # BelieveAcoustic album. #11songs ." The title of the 11th track is currently unknown.
As for Justin, he's indicating that these newly-written songs are from the heart. He tweeted on Sunday, "i got some things to say. #23Days #11Songs #BELIEVEacoustic #COUNTDOWN ."
Believe Acoustic comes out January 29.
Copyright 2013 ABC News Radio