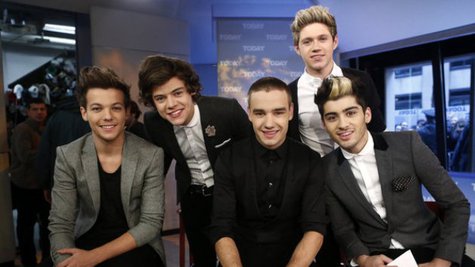 One Direction has gone retro for their new video, "Kiss You." The clip seems to be an homage to cheesy fifties and sixties movies -- one in particular.
In the clip, the guys are shown goofing around and making funny faces while riding a motorcycle with a sidecar, and driving a convertible against what obviously is a fake background. They're also shown surfing -- shirtless! -- on a fake studio set, and skiing on yet another phony set. In addition, the boys pose in sailor suits, in Hawaiian shirts, and in black and white gathered around a drumkit, in what appears to be an homage to the Beatles .
The most direct homage, though, is to Elvis Presley and his 1957 movie Jailhouse Rock . The scenes of 1D involved in all those sports are intercut with shots of them wearing prison garb and standing on the set of a fake two-level prison cell block with what looks like a fireman's pole between them. It's an exact copy of the set in which Elvis danced in the Jailhouse Rock movie, down to the pole, the uniforms, everything.
Of course, this isn't the first time One Direction have paid homage to music of the past. Their song "What Makes You Beautiful" was reminiscent of the Grease tune "Summer Nights," while their hit "Live While We're Young" was borrowed a riff from the Clash song "Should I Stay or Should I Go."
Copyright 2013 ABC News Radio