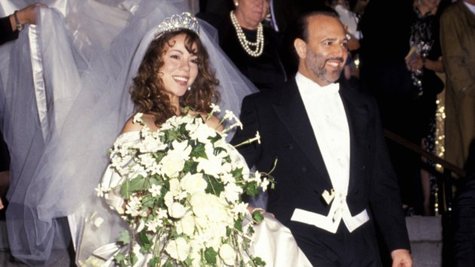 Mariah Carey has spoken in interviews about how her former husband, record executive Tommy Mottola , was controlling and emotionally abusive towards her. Now, Mottola's telling his side of the story in a new memoir, in which he reportedly takes credit for her success.
According to the New York Post , in the new book, Hitmaker , Mottola tells of hearing Mariah's demo tape and being so knocked out by her talent that he offered her $50,000 to sign with his record label, promising he'd make her the biggest star in the world. But he also began to pursue her romantically, despite the fact that he was married with two kids. He arranged a quickie divorce and the two married in what was described by guests as a totally over-the-top ceremony.
Taking control of her music, Mottola did manage make Mariah an enormous star, but the problems started when he wouldn't let the singer, who was then just 21, take a break to enjoy her success, and insisted that she get back into the studio and keep working. According to the Post, Mottola writes in the book, "My feeling was that there'd be plenty of time for Mariah to celebrate just a little ways down the road. I'm not talking 10 years, just a few."
In addition , the Post says that Mottola refused to let Mariah record the younger-sounding, more R&B and hip-hop influenced music she wanted to make, and insisted that she instead cut ballads like "Hero." According to the Post , it was Mottola who made Mariah record her Christmas album; she didn't want to do it. In the book, he writes that she must be grateful for that decision because -- "Helloooo!" is how he puts it -- the album has sold more than 20 million copies.
According to the Post , Mottola also controlled Mariah's private life, keeping her a virtual prisoner in their home, where she was followed everywhere by two bodyguards, even to the bathroom. She later described their marriage as "a private hell." Mottola's defense? In the book, he writes, "If it seemed like I was controlling. I apologize. Was I obsessive? Yes. But that was also part of the reason for her success."
Hitmaker comes out January 15, one day before Mariah makes her debut as a judge on American Idol.
Copyright 2013 ABC News Radio