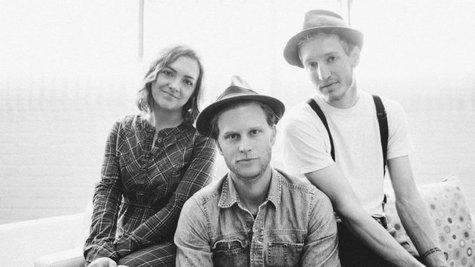 Thanks to their hit song "Ho Hey," rising stars The Lumineers closed out 2012 with two Grammy nominations, including one for Best New Artist. Now, 2013 is off to a fast start for the Denver-based band.
The band will be the musical guest on the January 19th episode of Saturday Night Live , and following that, they'll warm up for the Grammys with a brief sold-out East Coast tour. Meanwhile, The Lumineers' self-titled debut album has finally cracked the Billboard Top 10; it was released last April. "Ho Hey" has sold over two million copies and is approaching triple platinum status.
"Ho Hey" is a standout song because it doesn't sound like anything else on the chart these days, except for perhaps Phillip Phillips ' "Home." But it's even more stripped-down and folky-sounding, which the band thinks is the reason why it's so popular.
"I think people are yearning for something that is less produced, less glossy," says Lumineers singer and guitarist Wesley Schultz . "You'd be surprised how amazed people are when you just play an instrument and you actually just sing and there's no effects or anything."
He adds, "Even though that's what a lot of musicians do, they often don't present it that way. And I think that's the way we try to present it."
"Ho Hey" also became popular because it was featured in a variety of commercials, including spots for Bing and Microsoft, as well as for the movie Silver Linings Playbook . It also popped up in several TV shows, including The Vampire Diaries , Bones and Hart of Dixie . Lumineers vocalist and cello player Neyla [neela] Pekarek says once the song started being widely heard, she was surprised at how many people reached out to her.
"I had to cancel my Facebook, so many people were talking about it!" she laughs. "Which is really -- it's an honor for sure and we're happy it's getting into people's ears."
Copyright 2013 ABC News Radio