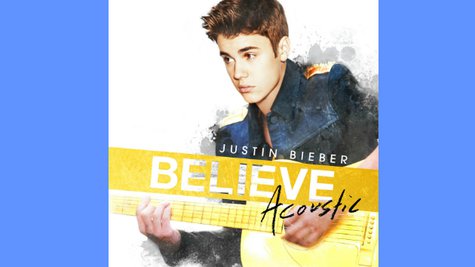 After seemingly non-stop teases on Twitter, all the details of Justin Bieber's new album Believe Acoustic have now been revealed.
The 11-track album features acoustic versions of eight songs from Justin's previous album, Believe : "Boyfriend," "As Long as You Love Me," "Beauty and a Beat," "All Around the World," "Take You," "Be Alright" and "She Don't Like the Lights," and what's described as a "live studio version" of "Fall."
In additions, fans will get two previously-unreleased songs -- "Yellow Raincoat" and "I Would" -- plus a song titled "Nothing Like Us," which was written and produced solely by Justin. That last one is described as a song that "gives fans an unprecedented and intimate glimpse of young love." Maybe his relationship with Selena Gomez inspired that one.
The album is now available for pre-order and will arrive January 29. On February 9, Justin will both host and serve as musical guest on Saturday Night Live. One blog has snarked that Justin was tapped because it's the Saturday before the Grammys, and since he wasn't nominated -- a fact about which Justin's his manager was furious -- he's the only artist who's available to do the SNL gig.
Copyright 2013 ABC News Radio