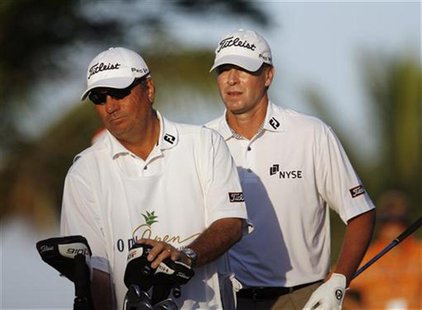 HONOLULU, HA (WSAU) Madison golfer Steve Stricker finished second at the weather-delayed Hyundai Tournament of Champions in Hawaii. He almost won the P-G-A's opening event for the second straight time. But Stricker missed a critical putt on the 13th hole that would have tied him with eventual winner Dustin Johnson at that point. Johnson eagled the hole, and went on to a four-stroke victory.
The 45-year-old Stricker finished at 12-under-207, with a four-under-69 in his third-and-final round yesterday. He walked with a limp on the course, as he felt pain shooting up his left side from a nerve problem in his upper thigh. But Stricker never blinked, and he said he tried to take full advantage of the opportunity to win.
Stricker only expects to play in about a dozen tournaments this year, saying he wants to spend more time with his family in Madison. He also expects to heal up in time for his next event, the Accenture Match Play Championship in March.
Pewaukee native Mark Wilson tied for 11th at the Tournament of Champions. He went three-under yesterday, and finished at four-under-215.