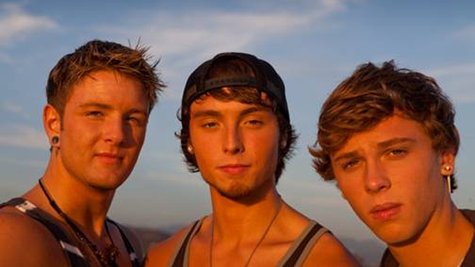 Southern California trio Emblem3 may not have won The X Factor, but at least they got a record deal out of the experience. The group, who was mentored by Simon Cowell and came in fourth, has now signed with Simon's company, Syco Music, and Columbia Records, and plan to release their debut some time this year.
The project is being executive produced by Savan Kotecha, who's worked with One Direction , Maroon 5 and Usher , and the group is collaborating with the same folks who've created hits for the likes of fun. , Nicki Minaj and Ke$ha . Even Good Charlotte's Benji and Joel Madden will be helping the group -- fitting, since Emblem3 also includes brothers Wesley and Keaton Stromberg . Drew Chadwick is the third member.
In a statement, Wesley said, "With our new teammates... I hope we can not only produce some empowering tunes, but also impact other people in a positive way and maybe help brighten things up a bit. Music is all we've ever wanted to do."
Simon added, "Wesley, Drew and Keaton are complete stars. They have a great attitude, are fun and genuinely love music. They deserve this and I'm really pleased we are continuing working together." Simon is obviously hoping for the same success he experienced with One Direction, who also did not win their X Factor season in the U.K. but who went on to conquer the world.
Billboard reports that Emblem3 aren't exactly strangers to showbiz: it's in their blood. The Stromberg brothers' uncle, Robert , is directing Angelina Jolie in the new Disney film Maleficent , while their dad, William , is a Grammy-nominated composer who's worked on TV shows like Lost .
Copyright 2013 ABC News Radio