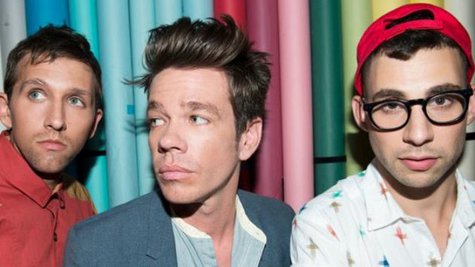 fun. is among the leading nominees for this year's Grammy Awards: they're up for a whopping six trophies, including Best New Artist, Record and Song of the Year for "We Are Young," Album of the Year and Best Pop Vocal Album for their disc Some Nights , and Best Pop Duo/Group Performance for "We Are Young." But it turns out that the band wants one of those trophies just a little more than the others.
Asked by People magazine which award they'd like to take home the most on Grammy night, February 10, lead singer Nate Ruess said, "I'd like them all! But Best New Artist is pretty special, because it's for more than just a song -- it's for a body of work, the band. That's an important one for us."
In addition to taking home shiny trophies, the Grammy Awards offer younger acts the opportunity to rub elbows with music legends, and there's one in particular that fun. would like to meet. " Paul McCartney is someone the three of us would love to sit in a room with, because The Beatles are our favorite band ever," Nate tells People. Well, the legendary rocker is nominated this year as well, so maybe that could happen.
With six nods, the odds are good that fun. will take home at least one award on Grammy night, so how do they plan to celebrate? "After the nominations show, we went out and ordered way too much food," recalls Nate. "So that's what we'll do after the Grammys. Win or lose, we're going home stuffed!"
Copyright 2013 ABC News Radio