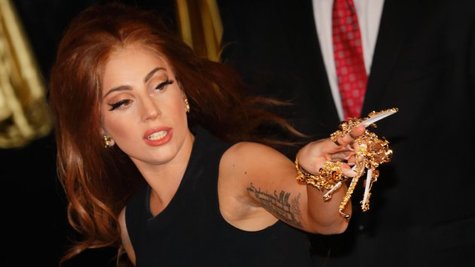 It's a new year, which means it's time for new celebrity feuds. So step right up, Lady Gaga , Kelly Osbourne and Sharon Osbourne .
It all started after Kelly bashed Gaga's fans in the pages of Fabulous magazine. Speaking about how people call her "fat" all the time despite the fact that she's lost 50 pounds, Kelly said, "Lady Gaga's fans are the worst. They've said I should kill myself, that they hope I get raped. I mean it's crazy but I've had this all my life and I just try and ignore it."
Of course, there was a reason why Gaga's fans have attacked Kelly: they were upset that she'd once criticized Mother Monster's looks, labeling her a "butterface" -- as in "everything but her face" is attractive -- and speculating that her recent weight gain might indicate that she's pregnant.
Lady Gaga responded to Kelly's comments in the magazine by posting an open letter to Kelly on her LittleMonsters.com website defending her fans, and taking Kelly to task for appearing on a "negative" show like E!'s Fashion Police .
"I have empathy for you Kelly, but I feel it culturally important to note that you have chosen a less compassionate path," Gaga wrote. "Your work on E! with the Fashion Police is rooted in criticism, judgment, and rating people's beauty against one another. 'Appearance' is the most used reason for bullying in the world. Your show breeds negativity."
She continued, "It used to make me truly sad when I would hear people talk about your weight when you were younger...To see you blossoming into a beautiful slender woman who makes fun of others for a living is astounding. Why not help others?...I urge you to take responsibility and accountability for the example that you are setting for young people."
Calling Kelly "lovely," Gaga added, "I cannot control my fans, and I discourage them from any negativity and violence, because that is wrong and hurtful -- and I do feel badly that your feelings were hurt. However, we can all do our part in the media to set a standard of respect, compassion, and love."
This letter, naturally, riled up Kelly's outspoken mother Sharon Osbourne , who promptly slammed Gaga on her Facebook page as a "publicity-seeking hypocrite and an attention seeker" for taking her feelings about Kelly public.
In fact, Sharon had privately asked Gaga's manager if the singer would tell her fans to stop attacking her daughter with death threats. Sharon included her note to Gaga's manager in her posting, and wrote, " I am calling you a bully because you have 32 million followers hanging on your every word and you are criticizing Kelly in your open letter. Are you so desperate that you needed to make this public?"
Sharon Osbourne then went on to say that Gaga's letter was " hypocritical and full of contradictions," noting that the singer preached love and compassion towards humans, but not towards animals, since she wears fur and raw meat. "Shouldn't you be teaching your 'little monster' fans to respect animals and life?," writes Sharon. She claimed that Gaga's message of compassion wasn't reaching her followers, since they've also slammed other celebrities like Madonna , Adele and Rihanna .
"In closing, stop wearing fur, stop looking for publicity, and stop using your fans to belittle not just Kelly but an endless stream of celebrities. A word from you would stop all the hideous, negative and vile threats from your 'little monsters,' concluded Sharon. "Let me know if you want to continue this debate. I'm an open playing field for you my darling."
Your move, Gaga?
Copyright 2013 ABC News Radio