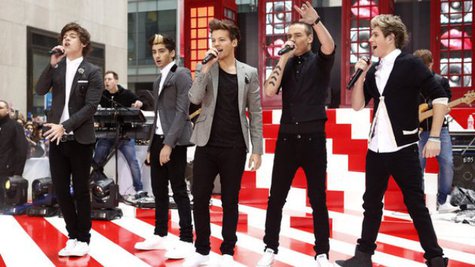 One Direction's upcoming 3D concert movie arrives in theaters in August, so it's a good thing that filming will start this weekend.
Variety reports that during a Q&A at the Variety CES Entertainment Summit in Las Vegas, the movie's director, Morgan Spurlock , revealed that he's going to start shooting the 1D movie this weekend in Tokyo. It's not clear if the guys will be on hand for these initial production days, since they don't have any shows scheduled in Japan.
When it was announced that Spurlock, the man who gave us the anti-McDonald's documentary Super Size Me, was going to helm One Direction's movie, many people responded, "Huh?" But Variety reports that the acclaimed filmmaker had previously been eyed to direct similar films for the likes of Justin Bieber and Katy Perry , but those deals didn't work out. When the 1D project came along, Spurlock said, he jumped.
"These guys have gotten so huge in such a short amount of time -- why?," Variety reports Spurlock asked. "What makes them more special than any other people?" The answer to that question is what he aims to show with the film.
Copyright 2013 ABC News Radio