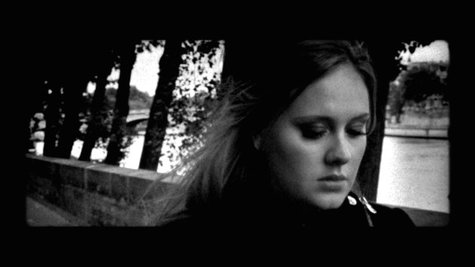 Adele became a new mom back in October, when she and her boyfriend Simon Konecki reportedly welcomed a baby son, but Adele has never publicly acknowledged the birth in any way. In fact, she hasn't really been seen in public at all since the baby arrived...until now.
People reports that the singer touched down in Los Angeles on Thursday, ahead of Sunday's Golden Globe Awards, where her song "Skyfall" is nominated, and she was clutching ...a baby! The infant was in a Baby Bjorn-like carrier, and she had a blanket thrown over his head. All that was visible were the kid's legs, clad in a striped onesie, but even so, there's now photographic evidence that Adele is a mom.
A series of photos published by the Daily Mail show Adele being led through the airport by her security guards. Her hair is up, she's wearing sunglasses and is dressed all in black, which is pretty much how she dressed before she had the baby. She'll presumably glam it up for her appearance Sunday at the Globes. She won't sing at the ceremony, but we'll hopefully see her on the red carpet and seated in the ballroom with the other stars.
Copyright 2013 ABC News Radio