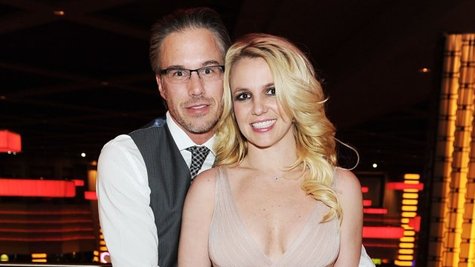 It's been a day filled with changes for Britney Spears . The latest news? She and her fiancé, Jason Trawick , have split.
Britney says in a statement provided to ABC News, "Jason and I have decided to call off our engagement. I'll always adore him and we will remain great friends." For his part, Trawick says, "As this chapter ends for us a new one begins. I love and cherish her and her boys and we will be close forever." Britney and Trawick announced their engagement in December of 2011.
What remains to be seen is how the split, which certainly appears to be amicable, will affect Britney and Jason's professional relationship. Remember, he started out as Britney's agent, and eventually became co-conservator of Britney's affairs, along with her father, Jamie Spears . TMZ.com reports steps are already being taken to remove Jason as co-conservator.
The news of the split comes at the end of a day that's already seen Britney confirm her departure from The X Factor , and revealed the news that she's she's switched talent agencies and will now be represented by the powerhouse Creative Artists Agency as she explores other career opportunities, including a possible scripted TV comedy.
Britney's album, due out in the spring, has made Entertainment Weekly's list of "12 Albums We Can't Wait For" 2013.
Copyright 2013 ABC News Radio