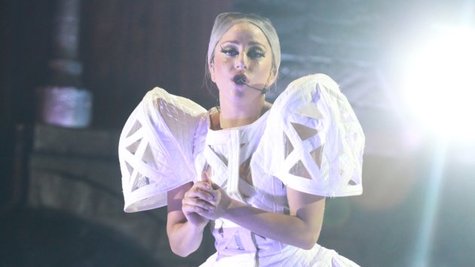 Joan Rivers has now jumped into the three-way feud between Lady Gaga , Kelly Osbourne and Sharon Osbourne . Rivers is taking issue with Gaga's comments about her show, E!'s Fashion Police, which Gaga disparaged while calling Kelly out for dissing her fans.
As previously reported, Kelly said in an interview that Gaga's fans have been cruel to her online, even sending her death threats, for comments she made on Fashion Police about the singer's appearance. Gaga responded by posting an open letter to Kelly on her LittleMonsters.com social networking site, accusing Kelly of choosing "a less compassionate path" by appearing on Fashion Police.
"Your work on [the show] is rooted in criticism, judgment, and rating people's beauty against one another....Your show breeds negativity," wrote Gaga. "Over the years [it] has even become comedic in nature. It glorifies you and Joan Rivers pointing in the camera, laughing, and making jokes about artists and celebrities as if we are zoo animals."
As you might imagine, Joan isn't happy about that description of the show. She tells Entertainment Tonight , " Fashion Police is a comedy show; anyone that comes out of an egg should figure that out." That's, of course, a reference to Gaga's decision to be carried down the Grammy red carpet in an giant egg back in 2011.
Rivers went on to tell ET that Gaga should "lighten up" and use her celebrity to "focus on more important issues."
Sharon, meanwhile, is upset because Gaga went public with her letter; it seems Sharon had privately contacted Gaga's manager and asked him to tell the singer to tell her fans to stop tormenting her daughter, and didn't expect Gaga to respond.
Copyright 2013 ABC News Radio