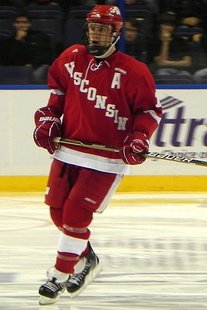 MANKATO, Minn (WSAU) The Badgers hockey team scored a late goal in overtime to beat Minnesota State, 2-1 on Saturday night. It's the Badgers first-ever sweep in Mankato.
John Ramage scored the game winning goal with 2-seconds remaining in overtime, with assists from Sean Little and Ryan Little . One night earlier Ramage also scored the game-winner in OT for a 4-3 victory.
The Badgers were outshot Saturday night 35-26.
Wisconsin is undefeated in their last last 10 games, and improve to 8-7-5. They're above .500 for the first time this year.
The Badgers will be back at the Kohl Center for a Friday-Saturday series against Miami-Ohio next weekend.
The Badgers womens hockey team swept Ohio State, winning 4-1 on Friday and 2-1 on Saturday.