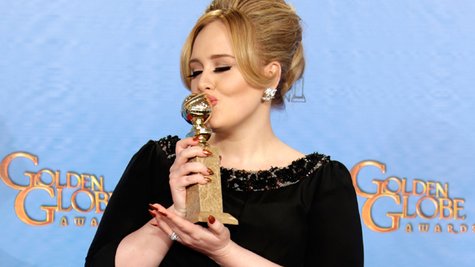 Adele 's return to the spotlight at Sunday night's Golden Globes ceremony worked out well for her: she ended up taking home the Best Original Song Trophy for "Skyfall," the James Bond theme she co-wrote and sang. In fact, when her name was announced, she reached across her table and high-fived James Bond himself, Daniel Craig .
"Oh my God!" screamed Adele, as she took the podium, looking great in a black dress with her hair in a complicated updo. "Honestly, I've come out for a night out with my friend Ida . We're new mums, we've literally come for a night out, I was not expecting this, thank you so much!" She added, "Thank you so much for letting me be a part of your world for a night. It's amazing, we've been pissing ourselves laughing all night!"
"I'd like to thank the Hollywood Foreign Press, I never thought I'd say that!" continued Adele, also giving shout-outs to her co-writer, Paul Epworth ; Skyfall director Sam Mendes , and Craig "for being such a wonderful Bond." She finished, "This is for my boyfriend Simon, who convinced me to do it, and my lovely son."
It was Adele's first public acknowledgement that she'd given birth to a son. Since the child reportedly arrived in October, she's been completely silent on the subject and never confirmed the birth. But backstage, she refused to reveal her son's name, saying, "I'm not ready, it's too personal and intimate, I'm enjoying it on my own at the moment." When asked how motherhood has changed her, the singer laughed, "I'm exhausted, that's how it's changed me. I've got eczema from sterilizing bottles so much in water!"
Among the stars Adele beat out for the award: Taylor Swift , Jon Bon Jovi and Keith Urban. "Skyfall" has also been nominated for an Oscar, and she's the favorite to win that award as well.
Copyright 2013 ABC News Radio