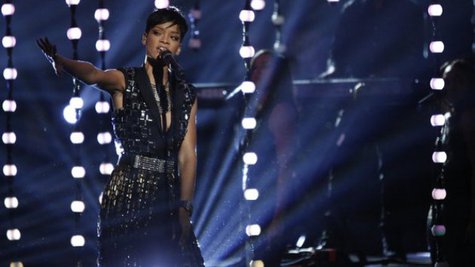 Rihanna might not be some parents' idea of a positive role model, but who cares? Students at Barrington High School in Barrington, Illinois, probably couldn't be happier to learn that they've won a visit from the Unapologetic singer.
According to Chicago-area newspaper the Daily Herald , a TV production class at the school entered the " Rihanna Bright Like a Diamond " video contest, and their submission earned the grand prize. The competition was hosted by Moxie , a company that provides free music and other materials to student-journalists who are interested in covering entertainment.
To enter the Rihanna contest, students had to lip-synch or make a video interpretation of her smash single "Diamonds." As part of their productions, participants were also required to feature footage of students at their school giving back to the community. Barrington High School's submission was chosen as the best of dozens of entries.
Now the students are just waiting to hear back about when exactly Rihanna will visit. A TV production teacher at the school tells the paper he expects the visit to happen in March, when Rihanna's Diamonds tour travels to the Chicago area.
Copyright 2013 ABC News Radio