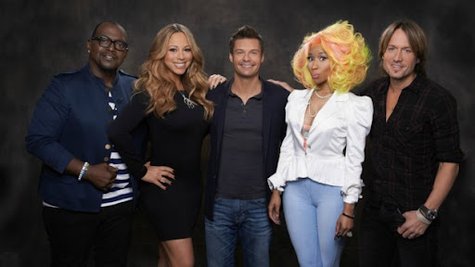 The Voice and The X Factor may have kept viewers entertained this past year, but the grandaddy of all music competition shows is back to show them how it's done. American Idol returns Wednesday night on Fox for a 12th season, with an all-new panel of judges -- Mariah Carey , Nicki Minaj, Keith Urban and veteran Randy Jackson -- and a new crop of contestants who, according to the show's major players, are definitely out of the ordinary.
"We have seen...quite possibly, the most diverse group of artists in terms of their styles, their looks, their backgrounds, their size. I think this will be the most diverse crew we've ever brought back," host Ryan Seacrest tells ABC News Radio. Judge Keith Urban agrees, saying, "You might say they sing terribly. Yep, maybe they do. Maybe they look completely weirdo. Maybe we can't even tell if they're male or female but there's something about them that's so incredibly compelling."
Perhaps judge Nicki Minaj says it best, though. "Even with the ones that we kept after Hollywood week, there's still a couple wacky people and I don't think Idol has ever had this many wacky 'wackies' -- let's just make that word up: 'wackies,'" she explains. "But, the good thing about the wackies that we have now is that they're freakin' talented, and so it's going to be fun. It's gonna be a fun season."
But what about the judges? After all, we've heard nothing for the past six months except how the judges are at each others' throats. Ryan Seacrest, however, maintains that "it's not the easiest thing in the world" to be an Idol judge, and praises the new panel for the way they all "stepped into those roles...really, really comfortably." He adds, "They have strong opinions and sometimes they have different opinions and they're not shy about voicing that, and that will be, I think, something people will want to tune into."
Make no mistake, though -- you're not going to be watching months of judges screaming at one another. As executive producer Ken Warwick says, "The show's not about judges arguing. The show's about the kids. You know, the reason we have star after star after star is because we do it properly. It's about them."
He adds, "We will never skew the competition direction away towards the judges. It's gotta be about the talent and it's because it's about the talent that we're so successful at it."
One of the criticisms of former judges Jennifer Lopez and Steven Tyler is that they were too nice to the contestants. Even Idol champ Phillip Phillips has said he wishes they'd been harder on him. Well, that won't be a problem this year, according to Nicki Minaj. "I remember watching from home American Idol and I didn't like when people would be just overtly passive about the talent," she says. "Because we're really here to do a job, and I don't wanna be here if I'm not really gonna do it."
And don't expect to hear Mariah Carey raving about contestants giving her "goosies" -- goose bumps" -- the way that J-Lo used to do all the time. "I didn't get chills from one person this year," the diva admits. "That sounds mean. I don't wanna sound mean....But, I mean, there were some people that impressed me greatly."
Wednesday night's show begins with New York auditions, and Thursday night's show moves on to Chicago. This year, there will be a few tweaks to watch out for, according to executive producer Nigel Lythgoe. For example:
--There won't be any wild cards, nor will there be a top 11, 12, or 13. Lythgoe says it'll just be a top 10. It's not clear whether or not the "judges' save" will still be in effect.
--The boys and the girls will be separated for Hollywood Week, and through the subsequent round in Las Vegas. In the past, it's been co-ed.
-- Some contestants who didn't necessarily plan to try out were nominated by their friends and families, and then brought back by the producers to audition anyway. Other contestants were found in far-flung towns away from the main audition sites by a traveling American Idol bus, and brought back to audition.
Copyright 2013 ABC News Radio