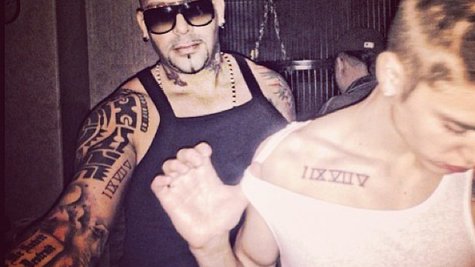 At this rate, Justin Bieber will run out of room on his body for more tattoos.
He posted an Instagram photo this week of a new tat -- of the Roman numerals "I IX VII V," or "1 9 7 5" -- on his right shoulder.
Standing behind him in the photo is music producer Jamal Rashid , a.k.a. Mally Mall , who's sporting the same tattoo on his arm. He's quoted in the caption as saying, "Great Minds Think Alike....Same Tatts spiritual meanings."
Justin is leaving us guessing as to what the spiritual meaning behind his latest tattoo is, though Britain's Daily Mail speculates that he got the ink in honor of his mother Pattie Mallette 's birth year, although the Roman numeral for 1975 is MCMLXXV.
Justin already had several tattoos, including one of a trio of roses he showed off on Instagram late last month.
Copyright 2013 ABC News Radio