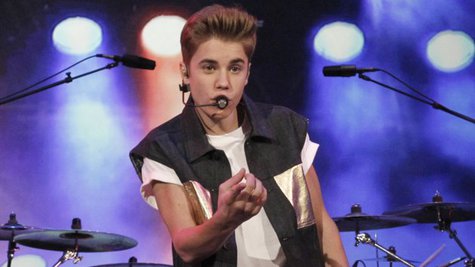 Lady Gaga has finally lost her Twitter crown. The singer is no longer the most-followed person on the social networking service: Justin Bieber has finally surpassed her.
Though their follower counts have fluctuated for the last few days, Billboard reports that at one point on Monday night, the Bieb racked up his 33,515,521st follower to take the title, passing Gaga's total of 33,315,459.
Billboard reports that as per Twittercounter.com , Justin's triumph is based on the fact that he's currently adding an average of 40,055 followers per day, versus Gaga's 30,495. Katy Perry's in third place with 31.4 million followers, and she's adding them at the rate of 29,843 per day.
It's not surprising that Gaga held the lead as long as she did, since she joined Twitter a year before Justin did. She's been the person with the most followers since August of 2010, when she passed Britney Spears .
As previously reported, Gaga isn't upset about Justin's achievement. A few days before he actually bested her, she tweeted, "So proud of @justinbieber and all the Beliebers! I'm only happy to see your fans growing in size, you all deserve it! Monsters support you!"
Copyright 2013 ABC News Radio