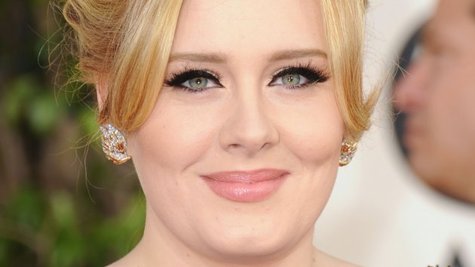 In this era of 24/7 celebrity news, the fact that Adele has managed to keep her baby son's name a secret is quite remarkable. But her jewelry may have just spilled the beans for her.
The singer was recently photographed shopping in L.A., and the eagle-eyed British tabloid The Sun notes that in the pictures, she's wearing a gold necklace that spells out the name "Angelo" in tiny letters. Since Adele's boyfriend is named Simon , her beloved dog is called Louis and her dad, who she doesn't have a relationship with anyway, is named Mark , "Angelo" just may be the name of the baby, who was born in October.
A source told The Sun , "Those close to Adele have been told the baby is called Angelo . We're not sure of the significance of the name. She's wanted to keep it quiet but it was always going to come out sooner or later." The source adds, "Wearing an 'Angelo' necklace not only backs up what is being said, it suggests she's not worried about people finding out."
Backstage at the Golden Globe Awards, Adele told reporters that she wouldn't reveal her son's name because it was "too personal and intimate."
Copyright 2013 ABC News Radio