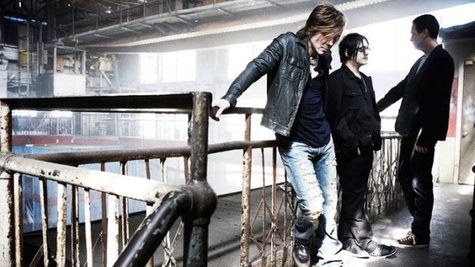 The Goo Goo Dolls are hoping that fans will have a strong "attraction" to their new album. It's called Magnetic, and it'll be in stores May 7. The catchy debut single, "Rebel Beat," will be officially released February 12, but you can hear it now on YouTube .
In a statement, front man Johnny Rzeznik says of Magnetic , "I'm so proud of our new album. I've had such a great time and learned so much from the amazingly talented people who worked on it with me." The producers on the project include those who've helped craft hits for Train , Bon Jovi and Katy Perry ; longtime producer Rob Cavallo also contributed to the album.
Johnny adds, "I think that positive energy comes across on the songs. Writing and recording Magnetic changed my thinking about making music and doing it in a fun way."
Magnetic is the Goo Goo Dolls' 10th studio album. Over their 20-year career, they've sold 10 million albums worldwide and scored 14 hit singles. The band just performed at the Creative Coalition's Inaugural Ball Monday night in Washington, D.C.
Copyright 2013 ABC News Radio