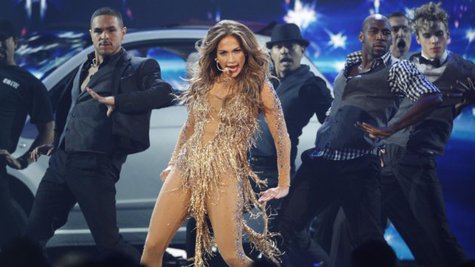 Jennifer Lopez has no problem with the idea that Beyonce supposedly lip-synched "The Star Spangled Banner" at President Obama's Inauguration. Speaking to Jon Stewart Tuesday night on The Daily Show , the singer and actress explained that technical reasons are usually why a performer will choose to sing to a pre-recorded tape.
"Sometimes it happens, when you are in certain stadiums and certain venues and stuff, they do pre-record stuff because you're going to have that terrible slap-back," says J-Lo, referring to the echo that occurs when sound travels long distances and then bounces back. That phenomenon makes it hard for a performer to hear or himself, and it's the reason most Super Bowl performers lip-synch.
Jennifer then cited the most famous example of a performer with a great voice who nonetheless chose to lip-synch, telling Stewart, "If I remember correctly...I think Whitney Houston ['s rendition of "The Star Spangled Banner"] was also recorded...and everybody loved it. It became such a huge hit."
Asked by Stewart if she herself had ever lip-synched because it's so hard to sing and dance at the same time, Jennifer replied, "You know, you do. There [are] times. All performers do have to do it at some point."
Copyright 2013 ABC News Radio