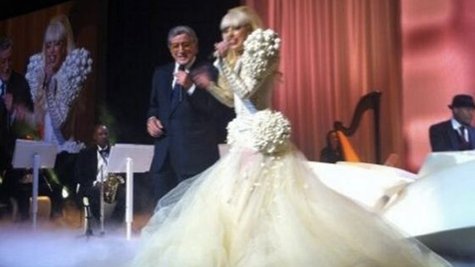 As predicted , Lady Gaga took a trip to the White House Tuesday night for a special performance at a post-Inaugural Ball for White House aides and campaign staffers, and she brought entertainment legend Tony Bennett with her.
According to the Washington Post , Gaga brought Bennett out to join her for the standard "The Lady Is a Tramp," which they recorded for Bennett's 2011 #1 album, Duets II .
The Huffington Post reports that admission to the ball cost just ten bucks and it was a young crowd, with President Obama quipping, "The average age here is probably around 20 something. And that's only because I'm here, which brings the average age up quite a bit."
Gaga wore an elaborate gown with what HuffPo calls "globular embellishments" on the shoulders and hips. The long-sleeved gown also had cutouts with what looked like plastic inserts and cords strung across the chest area and the arms. Her gauzy skirt was absolutely massive.
As for what she sang, a YouTube video reveals a performance of "You and I," where Gaga changed the words on the song from "Sit back down on the couch where we made love the first time" to "Sit back down on the couch where we watched you win a second time," referring to Obama's re-election. As the crowd cheered, she stopped, smiled and said, "You won... twice ."
She changed other lyrics of the song as well, mentioning "the president," referring to the "look" on his "wife's face," and singing, on the chorus, "Something about Obama, you and I."
Gaga also performed "Born this Way" and "Edge of Glory," according to the Washington Post.
Copyright 2013 ABC News Radio