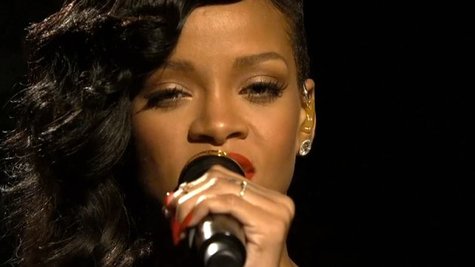 Thanks to non-stop touring and savvy endorsement deals, Rihanna certainly has cash to spare. And according to one Hollywood waiter, Rih's quite generous, and maybe a little competitive, too.
According to TMZ , Rihanna and her pals welcomed in the weekend with a trip to the Laugh Factory comedy club on Friday. Dane Cook was performing, so Rihanna and her crew settled in for drinks and jokes. They didn't do too much damage, though, running up a bill that totaled just $80.
Rihanna could have just thrown out some cash and left, but instead, she reportedly asked the waiter what his biggest tip had been. He said $100, so Rihanna made sure she topped that. According to TMZ, she put $200 in the guy's palm, declaring, "Now I'm your biggest tip."
In other Rihanna news, the singer shared a snapshot from her latest photo shoot with photographer Terry Richardson . Perhaps the session has something to do with Rihanna's recent tweet , revealing that she was on the set of her new magazine cover shoot.
Copyright 2013 ABC News Radio