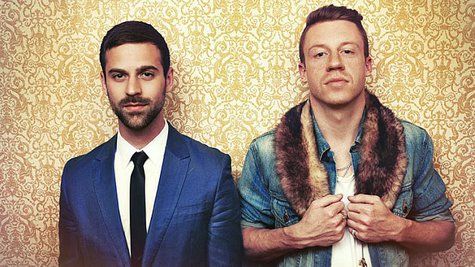 Now this is f***ing awesome: "Thrift Shop" by Macklemore & Ryan Lewis has topped the Billboard Hot 100 . It's the duo's first #1 hit, and it comes three months after their album, The Heis t, debuted at #2 on the Billboard album chart.
"Thrift Shop" has dethroned Bruno Mars ' "Locked Out of Heaven," which topped the chart for six straight weeks. Billboard notes that Macklemore & Ryan Lewis are the first musical duo to score a #1 hit with their first chart single since 1996, when Los Del Rio did it with "The Macarena." Ah, good times.
Meanwhile, Justin Timberlake 's comeback single "Suit & Tie," which debuted on the chart last week at #84, has now rocketed to #4. The song sold 315,000 downloads in its first week, which is the biggest first-week sales total for a male artist since Justin Bieber 's "Boyfriend" moved 521,000 copies last year.
"Suit & Tie" is JT's 12th Hot 100 top 10 hit, and now he can say that he's had twice as many top 10s as a solo artist than as a member of 'N SYNC .
"Suit & Tie" marks Justin's first trip to the top 10 since 2009, when he guested on Ciara 's single "Love Sex Magic." It's his first top 10 hit as a lead artist since 2007, when his song "Summer Love" reached #6.
Copyright 2013 ABC News Radio