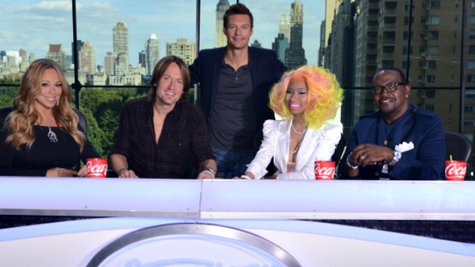 American Idol traveled south for auditions in Randy Jackson 's hometown of Baton Rouge, Louisiana, Thursday night. Fellow judges Mariah Carey , Nicki Minaj and Keith Urban were also there to wade through the talent. Here's what they found:
The Good
Megan Miller is the current Miss Baton Rouge, but she's hoping to move on to singing now that her education has been paid for through pageants. Megan was scheduled for surgery on a leg she injured, but she told the doctors she was delaying it until after her Idol audition. She tried out with the Etta James classic "Something's Got a Hold On Me," and the judges were thoroughly entertained. Randy loved how she overcame her busted leg for the audition, and Nicki loved how she used her crutches as a microphone. Mariah and Keith were big fans too. Megan is going to Hollywood. Her surgery was a success too.
Charlie Askew had trouble connecting with other people until he learned to express himself through music. Charlie tried out by singing the intro to "Breakthru" by Queen . His strong vocal performance left Keith saying, "Wow." For his second song, Charlie sang Nat King Cole 's "Nature Boy" and stunned the judges again. Nicki was pleasantly surprised by his voice, and Randy described him as a "seemingly dark, strange but cool guy." Keith loved the tone of Charlie's voice, and the judges sent Charlie on to Hollywood.
Maddie Assel was nominated by her grandmother to try out for American Idol , and Randy invited her to come try out for the judges. Maddie tried out by putting a strong, bluesy spin on "Oh! Darling" by the Beatles . Keith thought she had a unique vocal style, and Nicki liked her vocal power. Mariah was a fan of Maddie's song choice and confidence. It's a big yes for Maddie.
Paul Jolley said singing was his destiny, and he took one step closer to that fate with his Idol audition. Paul tried out with "I Won't Let Go" by Rascal Flatts , and Nicki gave Paul a vote of confidence for his pretty voice. Mariah thought he displayed effortless confidence, and Keith was a fan of Paul's voice too. He's going on to the next round.
Dr. Calvin Peters is in his third year of residency at a veteran's hospital, where he is known as the "Singing Doctor." Calvin tried out with Maxwell 's "Whenever Wherever Whatever." Keith thought he was brave trying out with a Maxwell song. Nicki liked his vocal technique, and the judges all agreed the doctor is going to Hollywood.
Dustin Watts is a full-time fireman in Baton Rouge. Nicki immediately asked if the good-looking Dustin had a girlfriend. He tried out with Garth Brooks ' "She's Every Woman," and Nicki was all smiles during his performance. Keith thought Dustin had a lot of confidence and suggested he sing George Strait 's "The Fireman" at some point. It's a yes all around for Dustin.
Burnell Taylor grew up singing in a musical family, but he really got his voice after living through Hurricane Katrina. He and his family moved from New Orleans to Baton Rouge after losing their home in the disaster. Burnell tried out singing "I'm Here" from The Color Purple , and there was no doubt he was headed straight to Hollywood. The judges gave Burnell a standing ovation, and Mariah had tears in her eyes as she praised his performance. Nicki said they were thoroughly entertained, and Keith said Burnell was ready for the spotlight. You'll see him in the next round.
The Bad
Christopher Barthel was a little spastic introducing the judges to his as-yet-unnamed alter ego. Since Nicki has been giving all the contestants nicknames this season, she gave Christopher's alter ego the name "Mushroom." "Mushroom" was the one who tried out with Adam Lambert 's "If I Had You." We're thinking it's time for "Mushroom" to be killed off. Christopher had the judges in stitches with his crazed performance, but he's not going to Hollywood. Nicki did offer to run her fingers through Christopher's hair as a final blessing though.
Thirty-five contestants made it to Hollywood from Baton Rouge. American Idol auditions continue in San Antonio, Texas, and Long Beach, California, next week on Fox.
Copyright 2013 ABC News Radio