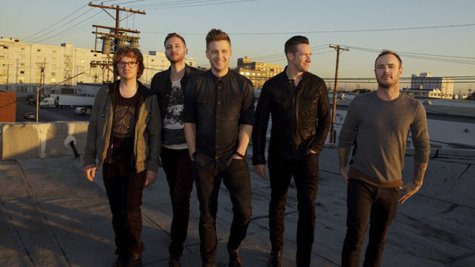 OneRepublic's new album Native features a variety of wild animals on its cover. That's also a theme that runs through their new video, "If I Lose Myself," which debuted online Friday.
In the clip, footage of the band performing in a club somewhere is intercut with footage of a guy leading a group of young people on a scavenger hunt of sorts through downtown Los Angeles. First, he texts them an image of a wolf, and then he travels around the city spray-painting images of other wild animals on random surfaces, like fire hydrants and lampposts. As the kids follow the trail of animal images, they find themselves -- guess where? -- at the club where OneRepublic is performing.
Underscoring the "native" theme, as OneRepublic performs, images of wild animals are projected on their drums and on screens behind them. At the end, a photo of a wolf is projected right onto singer Ryan Tedder's face.
Native is due March 26, while "If I Lose Myself" is currently at iTunes and other digital providers. The band plans a U.S. tour this summer.
In other news, OneRepublic will perform at the 2nd Annual NFL Honors, an awards show hosted by Alec Baldwin that will air on CBS February 2 at 9 p.m. ET.
Copyright 2013 ABC News Radio