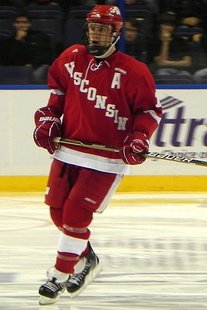 MADISON, WI (WSAU) Michael Mersch had two goals and an assist for the Wisconsin men's hockey team as it thumped Alaska-Anchorage 5-2. That was the 10th loss in the last 11 games for the Seawolves.
As cold as Alaska is, Wisconsin is just as hot. The Badgers have lost just once in their last dozen games. Tyler Barnes, Mark Zengerle and Nic Kerdiles each had a goal and an assist for the Badgers.
Wisconsin's record improves to 10-8-5, including 7-5-5 in the WCHA. The Badgers outshot the Seawolves 37-14.
A blanking of Wisconsin runs the top-ranked Minnesota women's hockey team's record unbeaten streak to 33 games in a row. The Gophers won in Madison Friday by a 2-0 score.
The Minnesota streak started with a 5-2 win over North Dakota last February. The old record of 32 games without a loss was set by Wisconsin in 2007, then repeated in the 2010-2011 season.