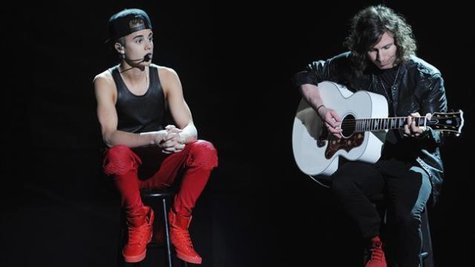 To whet fans' appetites for his new album Believe Acoustic , Justin Bieber has released a video, filmed in Australia, of him performing his hit "As Long as You Love Me," backed only by his musical director Dan Kantner on guitar.
Unlike what he's done for most of his musical projects, Justin isn't doing a major media blitz to promote Believe Acoustic . He has a Billboard magazine cover story, but the publication claims it's the "lone major interview he's done for the new album."
In the cover story , which will be posted on Monday, Justin talks about how he really feels about not receiving a Grammy nomination, whether or not he wants to do more acting and how he's dealing with heartbreak. "I'm not in the happiest place that I've ever been," he tells the magazine, presumably referring to his split with Selena Gomez .
If Believe Acoustic debuts at #1 on the Billboard album chart, Justin will be the only artist in music history to have scored five number one albums before the age of 19. His birthday is on March 1.
Copyright 2013 ABC News Radio