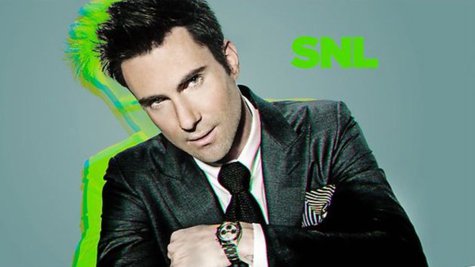 Adam Levine has performed on Saturday Night Live with Maroon 5 four times and appeared in a couple of digital shorts as well, but this past weekend, it was all about him, as he took the reins as host on the show for the first time, with occasionally hilarious results.
Adam started out strong in his monologue , a parody of his show The Voice in which he was given, not singing advice, but comedy advice from three surprise guests: former SNL cast member Andy Samberg , Cameron Diaz and Jerry Seinfeld .
All three sat in big red Voice chairs and begged Adam to let them coach him, but when Diaz advised Adam to take off his shirt, Seinfeld appeared and advised him not to. He also told Adam that he should join his team because they were so alike. "I get you: appealing, not as Jewish as your name," said Seinfeld, drawing big laughs. But by the end of the skit, Adam had taken off his shirt anyway, much to the delight of female viewers.
Adam's other big SNL highlight was his involvement in a digital short called Yolo , which marked the return of Samberg and his Lonely Island comedy team to the show. While "YOLO" normally stands for "You Only Live Once," in this case, it stood for "You Oughta Look Out," as Samberg and his crew rapped about how you should never do anything remotely dangerous or risky, because you only get one life.
Among the things the song cautions people to avoid: clubs, saunas, the sun, drugs, traveling, taking the stairs, keeping your money in banks, owning furniture and hanging out with kids because "their hair is full of mad lice." Adam sang the hook: "You know that we are still young/so don't be dumb/don't trust anyone/'cause you only live once."
In addition, Adam appeared in a sketch where he and Maroon 5 -- actors portrayed the other band members -- were hanging out in a bar, when their turf was invaded by "enemy" musicians: Train -- with Taran Killam as Pat Monahan -- plus Jason Mraz , played by Jason Sudeikis and John Mayer , played by Bill Hader .
Adam and "Pat" threatened to kill each other by quoting their own song lyrics, and everyone braced for a rumble, but the joke was that they were all way too wimpy to get physical: the ground rules of the fight were announced as "Rule #1: no punching. Rule #2: no hitting of any kind. Rule #3: fanny pinching OK." Ultimately, "Pat" and Adam simply ended up dancing to "Moves Like Jagger" as "Mraz" played ukulele and "Mayer" wailed on electric guitar. Unfortunately, that sketch is not available online.
The other sketches Adam appeared in included:
--A parody of the MTV show Catfish , with Adam as the self-absorbed host, Nev.
--Circle Work , an advice show for straight people on a gay TV network, with Adam as a gay co-host who tries to convince everyone that they're gay.
--A sketch set in a firehouse, where Adam's character gets verbally abused by a colleague for talking to his ex-girlfriend.
--"Biden Bash," a promo for a fake event hosted by Vice President Joe Biden , where Adam plays a Neil Diamond impersonator.
--The Sopranos Diaries , featuring the cast of the Sopranos as high-schoolers in the '80s, with Adam as a teen Salvatore "Big Pussy" Bonpensiero.
--A sketch in which Adam, as himself, goes home with a groupie , played by Bobby Moynihan in drag, but then refuses to have sex with her.
Copyright 2013 ABC News Radio