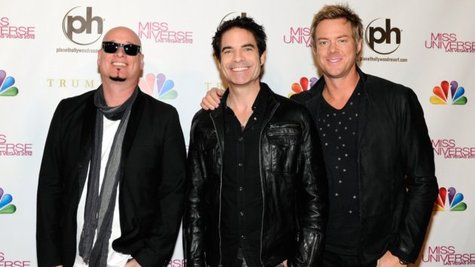 One of the more amusing sketches on Saturday Night Live this past weekend involved host Adam Levine getting into a bar fight with Pat Monahan of Train, Jason Mraz and John Mayer , all of whom were portrayed by members of the SNL cast as being wimpy, or, in John Mayer's case, crazy. But so far, nobody involved seems to be insulted by it. In fact, they approve.
In a tweet, the real Pat Monahan wrote "Great job tonight, Adam!" and included John and Jason in his comment. Pat also posted a screen shot of SNL cast member Taran Killam portraying him in the sketch, along with two other actors portraying drummer Scott Underwood and guitarist Jimmy Stafford , and captioned it, "SNL's impression of us."
Meanwhile, John Mayer tweeted , "Who caught the @maroon5 @train @jason_mraz and JM showdown on @NBCSNL tonight?" and posted a screenshot of SNL cast member Bill Hader portraying John.
So far, Jason hasn't weighed in on Jason Sudeikis's portrayal of him as a hat-and-scarf-wearing, ukulele-strumming hippie.
Sadly, an official version of the sketch is not available online because of song clearance issues, but there are some unauthorized versions on YouTube.
Copyright 2013 ABC News Radio