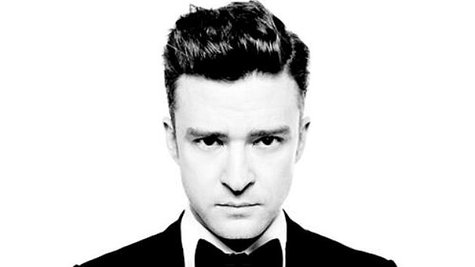 In the lyric video for Justin Timberlake's new single "Suit & Tie," he's looking sharp in a Tom Ford suit...but that's not just because he's a stylish guy. Turns out Justin has actually teamed up with the top designer to create an entire look for his upcoming album, The 20/20 Experience .
An announcement on Ford's Facebook page states that he and Justin "collaborated to create the refined style that will be reflected in Justin's forthcoming album." That includes "evening wear, suiting, shirting, ties, shoes and accessories that will be the focal point of The 20/20 Experience ," according to the statement.
In the artwork for the "Suit & Tie" single, Justin's rocking a Tom Ford tux with satin peak lapels, shirt and oversized satin bowtie. Among the pieces he's wearing in the lyric video: a Tom Ford three-piece peak lapel suit, a two-piece tuxedo, black loafers, gold tie bar, black onyx and white gold cufflinks and black and white leather loafers.
Even Justin's guest on the song, Jay-Z, is getting into the act. Part of his rap on the tune includes the line, "This is trouble season/Tom Ford tuxedos for no reason."
In a statement, Ford says, " I adore Justin. He has innate style and enormous talent. It has been such a pleasure and honor to work with him throughout this entire creative process."
Justin also wore Tom Ford to the SAG Awards this past Sunday night. The 20/20 Experience is out March 19.
Copyright 2013 ABC News Radio