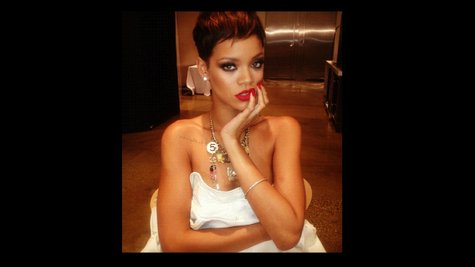 Lately, queen of self-portraits Rihanna has been leaving the photography up to the professionals. Fans who checked her Twitter timeline on Monday morning woke up to an announcement from Rih, who reveals that she's just wrapped a photo shoot for a "#topsecret" ad campaign.
In the photo, Ri-Ri's wearing a Chanel charm necklace and is draped in a white towel. Rihanna's dramatic makeup shows the singer with smoky eyes, close cropped hair and red lips.
Meanwhile, the singer went from front-of-camera to behind-the-scenes to create her own clothing line. "I have wanted to design my own fashion label for a very long time... I wanted to create something that's inspirational, new and fresh," says Rihanna about the collection she co-designed with Adam Selman and Britain's River Island label. The collection will debut during London Fashion Week in mid-February.
During a video interview with Vogue magazine , Rihanna adds, "I wanted all types of girls to be able to wear this and feel comfortable but edgy." The singer says street fashions were her inspiration, adding, "The kids say what's cool and the designers go and design it. Why not go to the source when you want to be ahead of the trend?"
Copyright 2013 ABC News Radio