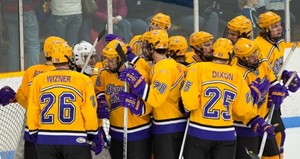 MINNEAPOLIS, MN (UWSP) - The University of Wisconsin Stevens Point Men's hockey team is back in top 15 of USCHO.com poll. USCHO.com released its weekly men's hockey poll on Monday.
The UW-Stevens Point men's hockey team (12-8-1, 6-7-1 NCHA) is currently ranked No. 14. The ranking is the highest of the season for the Pointers who are 7-3-0 in their last 10 games. According to USCHO.com, UWSP has the toughest strength of schedule in the country, to date. The Pointers remain at home this weekend as they play host to UW-Superior on Friday night and St. Scholastica on Saturday night.
Saturday's contest has been tabbed as the fourth annual "Put a Check to Cancer Night." The program has raised over $12,000, to date, in support of local cancer patients. On Saturday, the first 1,000 fans will receive a commemorative pink rally towel. Faceoff for both games is slated for 7 p.m.