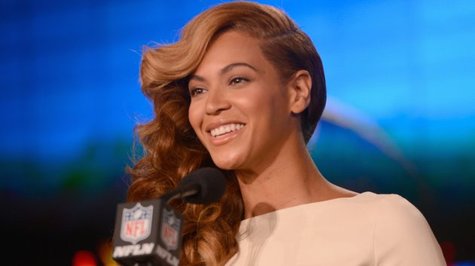 Over a week after she allegedly lip-synced the national anthem at President Obama's inauguration, Beyonce finally broke her silence Thursday at a Super Bowl press conference in New Orleans. And she broke that silence in song.
Striding out on stage in a long sleeved, white minidress with an open back, Beyonce told reporters, "Would you guys mind standing up?" Then, as the image of an American flag flashed behind her, she proceeded to sing "The Star-Spangled Banner" live, in its entirety. She got a huge round applause, but she wasn't getting off that easily. The first question asked her to explain exactly what happened at the inauguration.
"I'm a perfectionist," replied the superstar, and then explained that because she hadn't had time to rehearse with the orchestra, she "didn't feel comfortable" singing the song live.
"Due to the weather, due to the delay, due to no proper sound check, I didn't feel comfortable taking a risk," she said, adding, "It was about the president...I wanted to make him and my country proud so I decided to sing along with my prerecorded track. And I'm very proud of my performance."
When further pressed to explain if any actual sound came out of her mouth that day, Beyonce said, "I did sing along with the pre-recorded track," which seemed to indicate that she sang into the mic while the pre-recorded track of her singing was being played.
As for whether or not she'll be singing live on Sunday during halftime, Beyonce said firmly, "I will absolutely be singing live. I'm well rehearsed...this is what I was born to do."
After reporters were told to move onto another topic, Beyonce said she was honored and humbled to have the opportunity to perform at the Super Bowl, especially in New Orleans, since her family is from Louisiana. As for her setlist, she said it was difficult to choose which songs to perform, adding, "trying to condense a career into 12 minutes is not easy." Her plans after the Super Bowl? "I'm going to enjoy my daughter," Beyonce laughed. "I've missed her, I'm working so hard and I keep saying, 'Mommy will be done Sunday at 9 o'clock!'"
Beyonce also said that she "might" have an announcement at the end of her performance -- she hinted that it would have to do with a tour. In addition, she refused to confirm a Destiny's Child reunion onstage.
Copyright 2013 ABC News Radio