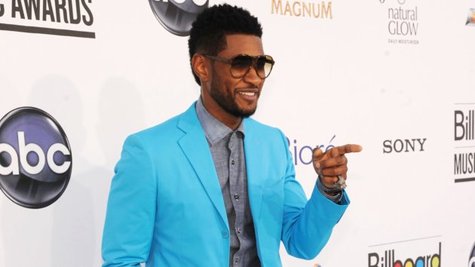 For a deal with the devil, you, too can dance like Usher , and get photographed and fawned over like him, too. All those things seem possible in a just-released Mercedes-Benz commercial, featuring a cameo from Usher, that is set to air over Super Bowl weekend.
This year's big game takes place in New Orleans, so naturally that's where the Mercedes-Benz ad begins. A guy sits alone in an empty cafe, admiring a billboard across the street that shows a silver, 2013 Mercedes-Benz model. When he finally looks away from the shiny new car, he finds that he's not alone. It's a very scary Willem Dafoe -- the guy who played Green Goblin in 2002's Spider-Man , in case you forgot.
"Make a deal with me, kid, and you can have the car, and everything that goes along with it," Dafoe's devil character says, handing a pen to the regular Joe across from him. And that's when a vision of this guy's future begins. He hops out of a Benz, then hits a red carpet with model Kate Upton as his date. Then seamlessly, that scene shifts into one that's taking place at an auditorium, where Usher breaks into some fancy choreography. The people around them cheer, as the ad's leading man joins in the dancing.
A few more dream scenarios play out before the cameras bring everyone back to reality. "So what do you say," Willem's character says. The regular Joe looks across the street to see the price of the new Benz. "I think I got this," the guy says, eying the $29,000 price tag. With that, Willem disappears into a ball of fire and ash.
Copyright 2013 ABC News Radio