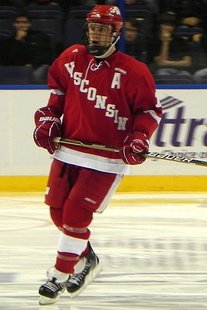 MADISON, WI (LEARFIELD-WSAU) Two Wisconsin men's hockey recruits were taken in yesterday's N-H-L Entry Draft. The Anaheim Ducks took Grant Besse in the fifth round as the 147th overall pick. The Phoenix Coyotes selected Jedd Soleway with the 193rd pick in the seventh round.Both players are incoming freshmen at the U-W this fall.
Beese is from Plymouth Minnesota. He was named the state's "Mister Hockey" in 2012, when he scored all five goals in his team's state championship game.
Soleway scored 19 goals last season for Penticon and Vernon in the British Columbia Hockey League.
This is the 16th straight year that at least one Badger men's player was drafted. Wisconsin now has nine N-H-L draft picks on its fall roster.