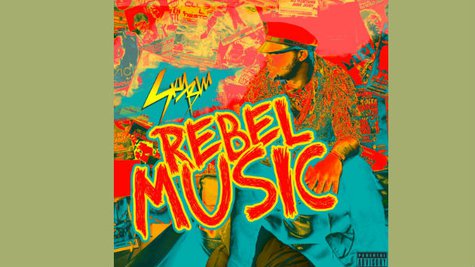 Now that LMFAO is on temporary hiatus, Sky Blu , the younger member of the duo, is ready to step out solo. He's offering his first solo album, Rebel Music, as a free download on July 4, and he says the music you'll find on it is different from the party rock anthems he and his uncle Redfoo created.
"I truly believe there's a song for everybody on this record because it's very eclectic," Sky explains. "I mean, so many people are telling me, 'Man, that's a very broad record you're putting out.' And I said, 'Hey, man, I'm an artist and I want people to know that.'"
So far, Sky has released several singles from this disc, including "Pop Bottles," "Salud" and "I Want to Party." But even though all those songs seem to involve drinking, Sky, whose birth name is Skyler Gordy , says, "I don't want people just to take me for, you know, just being part of one genre."
"Yes, my group is that. And it represents a lifestyle and it represents a whole party rock genre," he explains. "But who I am as a person...I live life. I experience things. I go through ups and downs, and so I express them creatively and artistically. And that's what's on my record."
He adds, "I'm funny and I am going through human stuff."
You can grab your copy of Rebel Music on July 4 at BigBad.com .
Copyright 2013 ABC News Radio