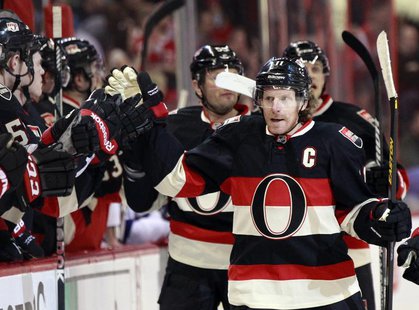 (Reuters) - Swede Daniel Alfredsson ended his 17-year career with the Ottawa Senators and signed for the Detroit Red Wings on Friday as National Hockey League's free agency opened with a flurry.
The 40-year-old All-Star right wing was captain of the Senators and his decision not to re-sign with the team was a surprise.
Alfredsson will join a Red Wings roster featuring fellow Swedes Henrik Zetterberg, Johan Franzen, Gustav Nyquist, Niklas Kronwall and Jonathan Ericsson.
Media reports said Alfredsson had signed a one-year $5.5 million deal.
There were 20 signings in the first hour of free agency, including forward Nathan Horton going to the Columbus Blue Jackets for a seven-year contract.
Horton had spent the past three seasons with the Boston Bruins and is facing time off for shoulder surgery in the off-season.
Ottawa brought in left wing Clarke MacArthur on a two-year deal after he scored eight goals and 20 points for the Toronto Maple Leafs last season.
The Edmonton Oilers snapped up defenseman Andrew Ference on a four-year deal, reported to be worth $13 million.
The 34-year-old Ference, born in Edmonton, entered free agency after playing with Boston for seven seasons.
The Bruins, defeated by the Chicago Blackhawks in this season's Stanley Cup finals, were busy making deals of their own with a 'blockbuster' trade with the Dallas Stars.
The Bruins signed forwards Loui Eriksson, Reilly Smith and Matt Fraser and defenseman Joe Morrow from Dallas for centers Tyler Seguin and Rich Peverley and defenseman Ryan Button, the teams announced on Thursday.
The New York Islanders re-signed Kazakh goaltender Evgeni Nabokov and the Philadelphia Flyers added goaltender Ray Emery from Chicago. Both were one-year deals.
The Carolina Hurricanes brought in defenseman Mike Komisarek on a one-year deal after Toronto allowed him to enter free agency.
(Reporting By Simon Evans in Miami, editing by Gene Cherry)