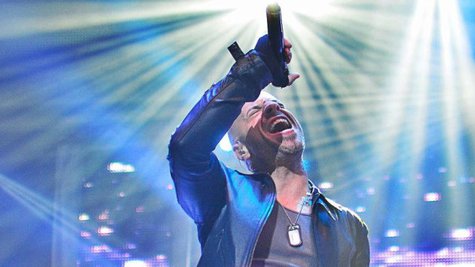 Daughtry kicked off the latest leg of their Break the Spell tour on Wednesday, and then immediately took the day off for the Fourth of July holiday. They're back onstage tonight in Maryland, continuing a tour that Chris says will be fun for Daughtry, their opening act, and the audience.
Once again, Daughtry is touring with 3 Doors Down, two acts that Chris says make a great double bill. "We certainly share similar fan bases, and I think we've gotten a lot of their fans, and vice versa, by touring together," he tells ABC News Radio. "It's like family, man -- we've toured so long together at this point and they're, like, our best friends...aside from musically being compatible, we're just [compatible] off stage as well."
One thing fans will get to see on this leg of the tour is the return of Daughtry bass player Josh Paul , who left the band last year, but is now back in the fold. In addition, unlike many bands who tour together, Chris says there definitely will be onstage collaborations between him and 3 Doors Down frontman Brad Arnold .
"I'll come out and sing a song or two with 3 Doors, and he'll come out with us, and it's just a lot of fun," Chris promises. "I think fans love seeing that sort of thing, because it's not what they can hear on the albums, and it's giving them something fresh for the show and the experience. So, I think it's great."
Unfortunately, one thing you won't see on the tour is Daughtry premiering any of the new material Chris has been working on for the last few months, which will appear on the band's forthcoming album. "As tempting as it is, no, because we haven't exactly worked them up as a band yet," Chris explains, noting that when he's tried to do it in the past, he wasn't happy with the way things turned out.
"A lot of times, I'd play an acoustic version of the songs, and it just doesn't represent what's going to be on the record," he says. "And then it's out there, and people know it, and by the time they hear the record version, I don't know...it's just that I don't want to put all our little surprises out there yet."
Speaking of surprises, some fans may have been surprised to see Chris featured in the July issue of Muscle & Fitness magazine, showing off his ripped bod and talking about his workout. But if you follow Chris on Twitter, you know that working out is a huge part of his life, and has been since he was a kid.
"When I was in high school, I started buying the magazine and hitting the weights really hard," he tells ABC News Radio. "And being such a fan of comics books, there's no superhero that's out of shape, so seeing those characters was always kind of an inspiration to me: it made me want to look like that as well." He calls being in the magazine "a childhood dream," adding that it's "a big deal" to him.
Of course, being on a lengthy tour presents challenges for anybody who wants to keep in shape -- there's food everywhere, and there's always the temptation to scarf down pizzas and other fattening goodies when you get off stage. But Chris says he's got enough discipline to resist, generally. "There's always that healthy option, but then there's lasagna," he says. "And you go, 'OK, am I going to go there today?"
He explains, "I kind of self-edit, like, I know what I'm taking in, and it's not like a calorie counting thing more than it is, you know, If I'm eating this, I gotta not eat this.' It's just one of those moderation things."
Hopefully Chris's willpower will last him 'til the end of the tour, which wraps mid-August in New Mexico.
Copyright 2013 ABC News Radio