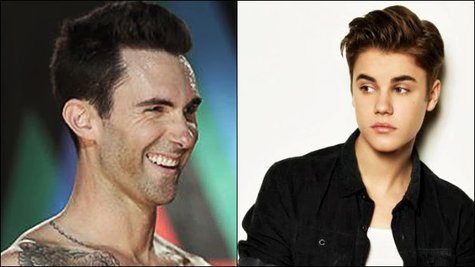 After rumors surfaced in May that they were dating, Adam Levine and model Nina Agdal were photographed on vacation together in Mexico last month, seemingly confirming their relationship. The two were also seen together in Vegas recently. But based on a new interview with Nina, it appears as though Adam should be worried about a younger dude stealing his girl: Justin Bieber .
Speaking to Galore magazine, the 21-year-old Danish model goes on and on about how much she loves the 19-year-old pop superstar. "Oh my God, the Biebs!" she gushes. "Justin is having a rough time. I just want to be there for him and support him. I think he's so cute! Imagine how much he has accomplished. I just think he's f***ing cool, man."
She adds, "I was at his concert front row and I was like, 'Look at me!' I don't know if he saw me, but I really, really tried to get his attention." When asked if she has posters of Justin all over her bedroom walls, she says, "I actually don't! I have a lot of photos of him on my phone though."
Let's hope she also has photos of Adam, who's 34, on her phone as well -- and that she'll be front row at Maroon 5 's concerts when they hit the road next month on the Honda Civic Tour.
Copyright 2013 ABC News Radio