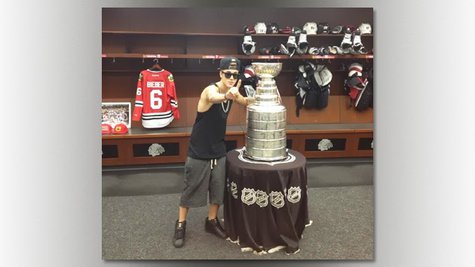 What happens when Justin Bieber poses with the Stanley Cup? A lot of sports fans complain, that's what.
Justin performed Tuesday night at Chicago's United Center, the home of the NHL's Blackhawks, who won the pro hockey championship last month. After the show, Justin had the opportunity to pose with the Stanley Cup, arguably the most recognizable championship trophy among the major sports.
The senior director of market development and community affairs for the Blackhawks, Peter Hassen , tweeted a photo of the Bieb with the Cup, a move that has not gone over well with some sports fans. A sample of the Twitter backlash: "When The Cup jumped the shark," "there are many words among them are shame and disappointment," and, "Just lost a lot of respect for Blackhawks."
Hassen defends the photo op, writing to one person on Twitter, "people need to relax. Justin Bieber reaches the same market audience that we will need to be the next Blackhawks fans."
Justin has also caught flak for stepping on the Blackhawks logo in the team's locker room -- a no-no among hockey players. The team's rep tells TMZ that Justin "did accidentally step on the logo but was immediately asked to step off and was extremely sorry as soon as he realized what he did."
In any event, Justin posing with a sports trophy isn't nearly as scandalous as his alleged urination into a restaurant mop bucket in New York City earlier this year.
Copyright 2013 ABC News Radio