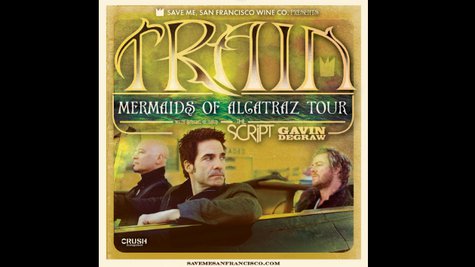 Get your fishtails out of the closet: Train is kicking off its big Mermaids of Alcatraz tour tonight, and -- as a nod to the band's song "Mermaid" -- fans who show up in costume at concert dates have a chance to score ticket upgrades for premium seats. The tour kicks off in Virginia Beach, Virginia, at Farm Bureau Live.
All you have to do, says singer Pat Monahan , is arrive at the concert in your best mermaid finery. "They'll be a group of people with us the entire time, kind of keeping an eye on people that are dressed up," he explains. "And they'll be, like, 'Hey, you guys look amazing, come on up, and you're gonna have a fun time up in row two, instead of back in the grass.'"
Of course, Train's male fans aren't thrilled with this concept because, understandably, they're not down with the idea of dressing like Ariel.
"There are a lot of guys that are, like, 'Dude, you gotta like let us dress up like pirates, or something,'" says Pat. "Because all these girls are going to be getting sweet seats if they have nice costumes, and then we always have girls come up and do 'Mermaid' with us [onstage]. And so they're going to get all that stuff. And these guys are like, 'What about us?" So we're going to have to figure something out."
On the other hand, Pat says, there are some male fans who welcome the challenge of going head-to-head with the ladies. "I know that there are a couple of guys that are like, 'I'm going to blast out a mermaid outfit that's gonna beat all them b***hes!,'" laughs Pat. "And that's really awesome to me."
As for why the tour is called Mermaids of Alcatraz, well, the "mermaid" part is obvious, but Alcatraz, the famous prison, is a big landmark in the band's hometown of San Francisco. And, explains Pat, it offers a nice balance.
"'Mermaid' is a very feminine name, so like how do you 'cool' that out or give it any kind of masculinity?" he says. "And then you think, 'A mermaid from Alcatraz , she's a bad-a**, you know, probably has a little hair on her chest.' And that was the idea, so we kind of just brainstormed it."
In addition to all the costume shenanigans, the tour will, of course, offer great music, not only from Train, but from their opening acts: The Script , Gavin DeGraw , and Michael Franti, best known for his hit "Say Hey (I Love You)." Pat says Train is happy to be touring with three acts that they have such great relationships with.
"The Script, we've been friends with those guys since we were on the VH1 cruise two years ago, and then Gavin, we've known him for eternity," says Pat. "Michael Franti, he's someone we look up to actually." Pat recalls that before Train even had a record deal, they aw Michael at a festival outside their mutual hometown of San Francisco. "I remember watching him onstage and just being in awe," Pat recalls. "And then I went and met him, and he was so good to me that I was like, 'I'm just going to be that guy's fan forever."
Overall, Pat says that Train is thankful that they can do a big summer tour like this -- a tour that's even bigger than the one they did in 2011 with Maroon 5. "I think most of the shows during that tour were like, y'know, ten to twenty thousand people, and this is exceeding that," he points out. "And so, whether it's because the economy is a little better than it was back then, or you know the fact that we've kind of sustained through it all...we're just really grateful."
The tour wraps up August 14.
Copyright 2013 ABC News Radio