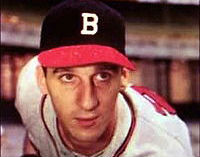 ATLANTA , GA (WSAU) -- If you're looking for some Milwaukee baseball memorabilia, here's your chance.
Warren Spahn's son Greg has five children, and he does not want to choose a sole heir for their grandfather Warren Spahn's 1957 Cy Young award, so it's going up for auction.
Greg Spahn was Warren Spahn's only child. He says the family will have more than 800 items, including most of Warren's Spahn's memorabilia collection, up for grabs in a live auction Monday in New York. Hunt Auctions estimates the price will range between $75,000 and $125,000 for the Cy Young Award. Other expensive items include a 1958 National League championship ring, 300th career victory ball and Spahn's personal Hall of Fame ring.
Greg Spahn is now a retired real estate and investments consultant. He plans to use the money from the auction to help his children with college expenses.
Warren Spahn died in 2003. His 363 victories rank fifth on the overall career list. Starting in 1942, Spahn spent all but one year of his career with the Braves organization, first in Boston and then in Milwaukee. His final year in baseball was played with both the New York Mets and the San Francisco Giants in 1965.